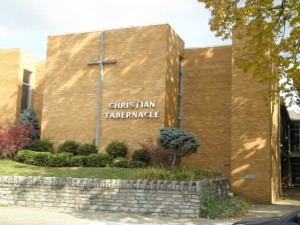 Christian Tabernacle originally sprang forth out of street meetings held by our Founder-Pastor, Rev. John H. "Jack" Bishop, a native of Cincinnati, He felt God's call to come to Newport for the purpose of holding street meetings during Newport's wide-open gambling era.  A core group formed from those street meetings to comprise the initial church congregation.
The small congregation convened on the first floor of a rented building on Ninth St. in Newport on Sunday, February 22, 1931.  As necessity demanded, the church moved on to two other rental locations before building its own church building at 221 East Fourth Street in 1941.  The congregation also purchased a house adjacent to the church property where some of its Sunday school classes were held.   A gymnasium and nursery were later additions.
On March 20th of the same year, the church was incorporated under its original name, Newport Gospel Tabernacle.  Years later, the name was changed to Christian Tabernacle to reflect a broader outreach, yet remained non-denominational in character.
The present church building was constructed 28 years later on Washington Avenue, its fifth location and was occupied in June of 1969.  A mortgage burning celebration was held in August of 1984, a few years earlier than projected.
The hallmark of Christian Tabernacle has been its Ministry of Faith, depending upon God to meet the needs of the congregation in His time.  The primary emphasis of the church has been the preaching of the Gospel  with an emphasis upon Jesus Christ as personal Savior, Baptizer, Healer and Coming King.  There has also been an emphasis placed upon our great Christian-American heritage, with a patriotic Thanksgiving service held every year complete with scenery, patriotic music, and hymns .  The service ends with a traditional apple march and each one taking home a shiny red apple.
Christian Tabernacle's founding pastor preached his last sermon in February of 1991, almost 60 years to the day of the church doors opening in February of 1931.  He went home to be with the Lord in July of 1991.
Christian Tabernacle continues to be a Bible believing church with an emphasis placed upon prayer.   The church membership exhibits a family feel and creates an atmosphere of friendliness and warmth, making visitors feel welcome their first time here.